Personalized Orthodontics for Your Best Smile!
At Buccieri Orthodontics, Dr. Heather appreciates that she is not only improving her patients' oral health, but she is also creating a smile for each person: a unique individual worthy of their most wonderful smile possible!
Dr. Heather and her team believe you deserve a smile that is stable, functional, and filled with confidence. We want you to have a fun, affordable, comfortable orthodontic experience, and to finish with a smile you love to share!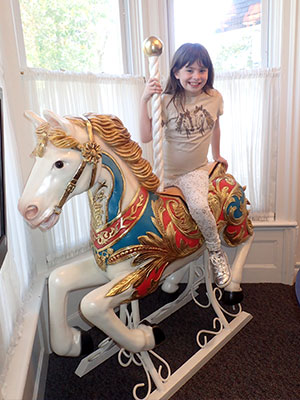 What's Different at Buccieri Orthodontics?
We have served the East Aurora community since 1987, and created incredible smiles for all ages. We have grown by word-of-mouth referrals from former and current patients and are thrilled to be seeing the children of some of our first patients now!
Although we are consummate professionals, and serious about the trust you place in us, we are also warm, friendly, and fun-loving. You will be surrounded by laughter and smiles during visits: from Dr. Heather, our team, and your fellow patients and their families.
We are people-oriented and excited that we will get to know you during treatment. We'll greet you by name, learn what's important to you, celebrate your achievements, and look forward to your visits as time with a friend!
We hire only licensed dental hygienists to work with Dr. Heather in our clinic. Given this high level of education and training among our clinical staff, Buccieri Orthodontics offers an unparalleled treatment experience.
We use state-of-art-digital scanners and X-rays for the most advanced, accurate diagnostics and treatment planning. We also have a full-service, in-house lab where we custom-craft many of the appliances used during treatment.
We are part of the community. Dr. Heather is an East Aurora native, and she and her team live in the area. You'll see us at local gatherings, run into us at the store, and catch us enjoying all that life in our region offers!
Schedule a Complimentary Orthodontics Consultation
The first step toward a healthier, more incredible smile is a no-obligation consultation with Dr. Heather. You'll come in to meet the team and tour the office, we'll ask about your treatment goals and concerns, and Dr. Heather will perform an initial exam.
Based on her findings, and what we've learned from our conversation, she'll create your custom treatment plan. It will be comfortable, efficient, and affordable, and provide a clear path to achieving the amazing smile you deserve!
Please contact our East Aurora or Amherst, NY orthodontic office to learn more and schedule your consultation. We look forward to answering your questions and building a friendship while you achieve your most beautiful smile. Please call today!