Being an orthodontist has allowed me to befriend and get to know incredible people of all ages, from diverse backgrounds, each with their own interests and experiences to share. Every person offers me, my practice, and our community their own unique qualities, and I treasure their wonderful contributions.
I love watching children become confident young men and women and working with adults to help them address things about their smile that may have been bothering them for quite some time.
We use the latest technological advanced systems that allow for fewer visits and shorter treatment durations. Throughout your orthodontic care, we keep you comfortable with light, long-acting archwires that align teeth gently and efficiently. In addition, for those cases treated with aligner therapy, we work to plan and detail predictable outcomes within reasonable time frames. Working with both children and adults, we take great pride in our treatment outcomes and enjoy the relationships we develop along the way.
My team and I provide a positive, supportive, and encouraging environment, where each patient is treated with respect and compassion.
Buccieri Orthodontics
We celebrate life and smiles, and believe that work does not have to feel like work. We take our profession and the care we offer very seriously, and we hold ourselves to the highest standards of clinical care and customer service.
While we do this, we don't take ourselves too seriously. We embrace the holidays, the Bills, and our patients, and all they bring to our office and to our community. This is a practice filled with laughter and smiles, where our patients are part of our family and considered friends.
Education
East Aurora High School
Hobart and William Smith Colleges, Geneva, New York – Bachelor of Science
State University of New York at Buffalo – Doctorate of Dental Surgery
State University of New York at Buffalo – Master of Science and specialty in orthodontics
My commitment to my profession and my patients is to stay current with the latest technologies, methods, and modes of patient care. It is my responsibility to evaluate new options thoroughly, and determine whether to incorporate them into the practice.
Through continuing education, my staff and I embrace lifelong learning.
Professional Memberships
Greater Buffalo Orthodontics Academy
Erie County Dental Association
New York State Dental Association
American Association of Orthodontists
Phi Beta Kappa Honor Society
In the Community
I am a past President of the Personal and Professional Relations Committee of the local dental board. I continue that outreach by visiting multiple local schools each year, during which I provide practical information and raise awareness of children's dental health.
I have also traveled to southeast Costa Rica, to help teach and train women of the Cabécar Indian villages about hygiene and healthy living habits. Through those efforts, I have helped to build individual family gardens for better, healthier food production and taught people about diseases, clean water, and clean habits for overall health and well-being.
Locally, my staff and I offer outreach programs to underserved communities, focused on health and food preparation.
Beyond the Practice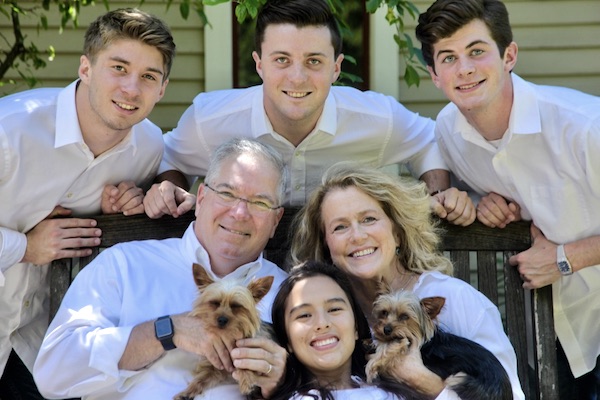 A native of East Aurora, I married my hometown sweetheart (and ninth-grade homecoming date) in 1991. We have four amazing children who are now pursuing their lives around the country, having studied at Syracuse University, University of Dayton, University of Kentucky, and Albany Law, as well as my alma mater, East Aurora High School, and my husband's, Saint Francis High School.
Brian and I have been thrilled to reside in our hometown and raise our family here. Two small Yorkies joined our family in 2018: Malibu and Dakota.
I am a mother of four and when I am not working, I share in the care of my loving parents, who are both celebrating lives in their 90s. In my spare time, I enjoy going to the beach with my family, camping, entertaining, bike riding, and skiing. My favorite hobby is photography and I have embraced the opportunity to be on the sidelines of many athletic fields to capture both my children's and patients' sporting events in a way that only a photographer can appreciate … through a lens.